F250 Custom Pinstripe Blitz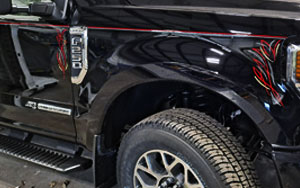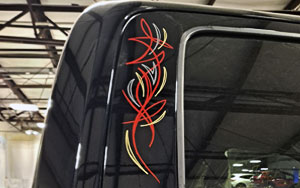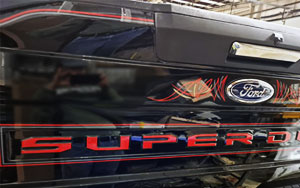 One of my customers just got a new toy. He always calls me to customize his vehicles for that unique one-of-a-kind look. He decided to match the colors of the vehicle incorporating the decals, interior and add on accessories. Here are some photos of the completed project…
More Custom Stripe Reproductions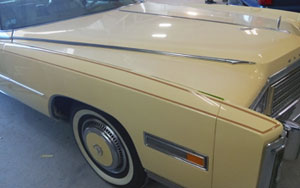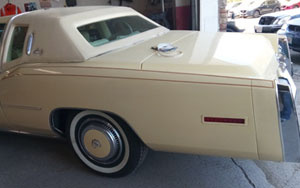 My customer at Northshore Auto Body in Danvers, Ma was refurbishing this classic monster. The butter yellow original paint needed to be accented with a chunky medium brown stripe. The stripes were rather unusual.. The design was geometric and boxed the individual panels. The stripe really helped to break up the largeness of the vehicle and gave it lots of character!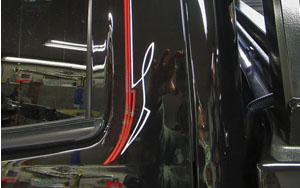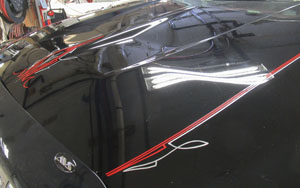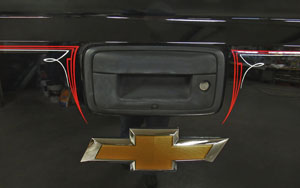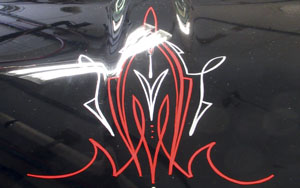 My customer J&S All State Contracting, Inc. wanted to add some serious stripe designs to his truck. He wanted the colors to match the decals on the truck. He started out wanting some straight lines on the sides and some scroll on the tailgate. After he saw it, he decided that the truck would look even better with some accents on the columns and on the hood. The result was big, bold and classy.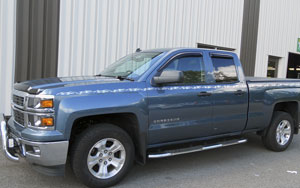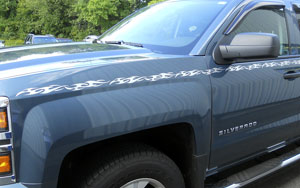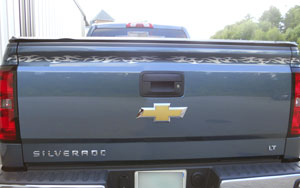 Here's an example of metallic silver vinyl flames installed on a truck. The customer loved it!
Just Another Day at the "Office"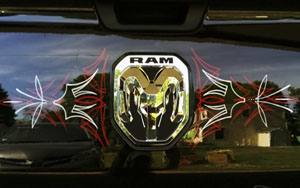 I love my job. My "office" is anywhere outside my shop door. This project was one in which my customer called me to stripe his new truck and he gave me some insight about what kind of look and colors he wanted. I was able to design something old school and classic. A nice triple 2 color straight stripe down the sides accented with custom scroll striping on the columns, hood and trunk.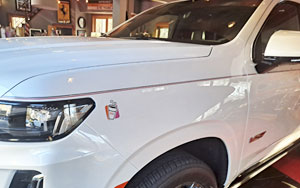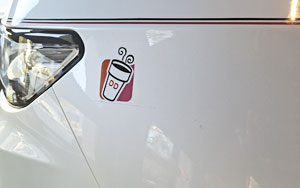 Here is a custom pinstripe project I recently completed for a special customer. What better way to advertise your business and bring attention to your ride than with a beautiful painted pinstripe and logo. Check out our pinstripe page on our website. You can add your vehicles custom logo or any artwork or graphic to accent your stripe!
"I need to find my car in a parking lot!"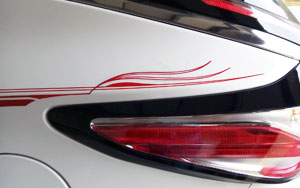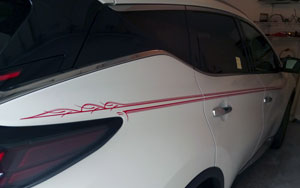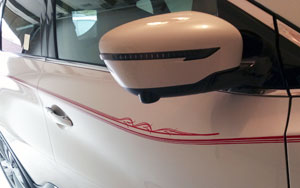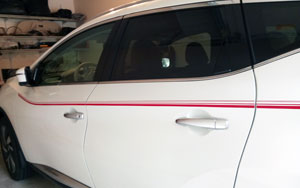 I have loyal customers that call me everytime they buy a new vehicle and want to customize it with a painted pinstripe. This customer wanted a bold design to help her find her car in a crowded parking lot. Working on models like this Nissan SUV was a challenge due to the complicated body lines. She wanted a design that would flow but not overtake the simple beauty of the vehicles design. The end result was a distinguished look that separated her vehicle from the rest. She was thrilled with it!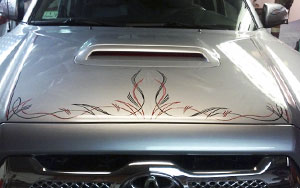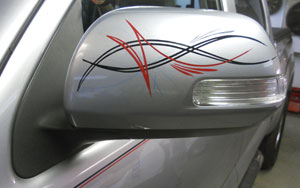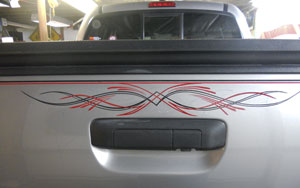 I have a customer in my town that calls when me when he wants his toys pinstriped. I never know what I am going to do until I go there. He's got a cool man-cave with great tunes and leaves me alone to do whatever I want to his cars. He'll tell me what color he wants and where and that's about it. I simply go with the flow of the body lines and always seem to come up with something he loves. Its great having customers like that and these are the jobs I really enjoy doing because I can be as creative as I want.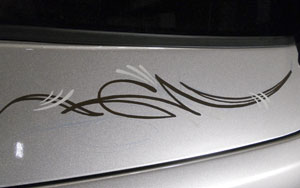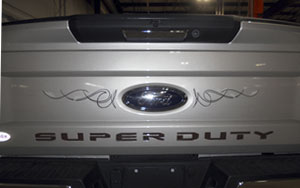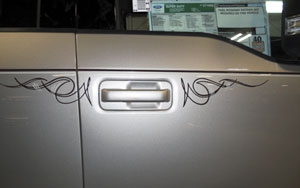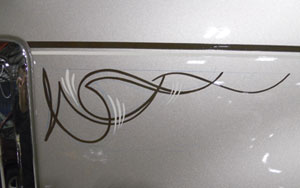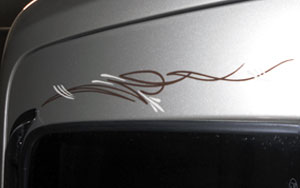 This is an example of soft, orgnanic, old school designs complimenting the colors of the vehicle in black and gray.
Incorporating Graphics with Pinstripes for a Unique Look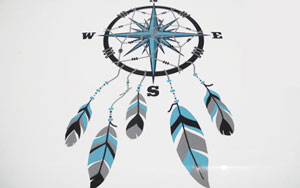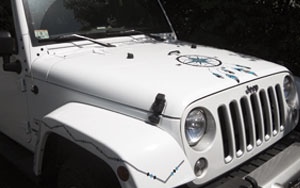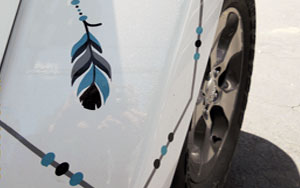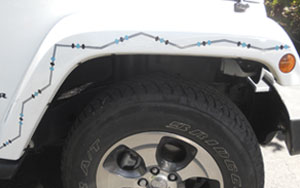 This customer wanted to customize her Jeep to reflect her adventurous spirit. She chose a dreamcatcher graphic for the hood as the main theme for the vehicle. We worked together throughout the winter to come up with a design that would complement the Jeep. Pinstriping a Jeep is a challenge. There are so many angles and no real continuous body lines to follow. I ended up incorportating the angles from the mesh of the dreamcatcher forthe fender stripes, adding some colored beads and a few feathers here and there. My customer loved the look!
Custom Bicycle Stripe...Oh My!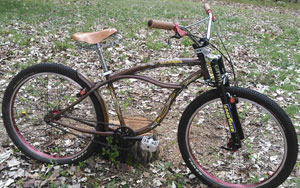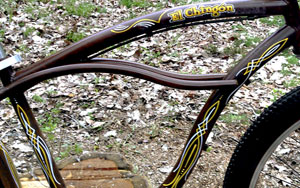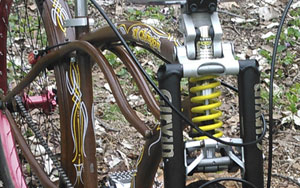 I love it when I get unusual requests for pinstriping. This client custom paints bicycles. This frame was painted with an antique-stressed finish. I added 2 color striping to doll it up. "El Chignon" was hand painted on the top tube. It looks really cool. Don'tcha think?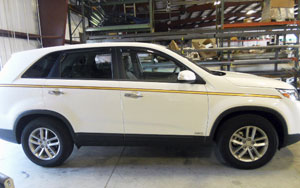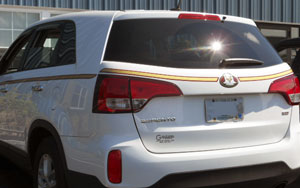 Occasionally I have customers that want to do something BIG and BOLD on their vehicles. This particular client wanted a thick burgundy stripe with a knurled imitation gold leaf stripe on top. The metallic gold leaf vinyl really came to life when the sun hit it. Put your shades on...HOT!!
Cool Vehicle, Cool Stripes!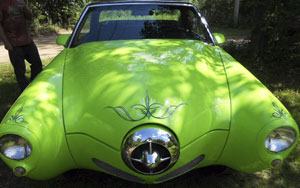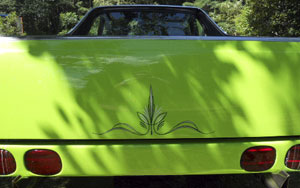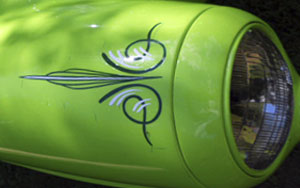 I really loved creating the pinstriping for this unique vehicle. The pictures do not do justice to the beautiful metal flake paint job.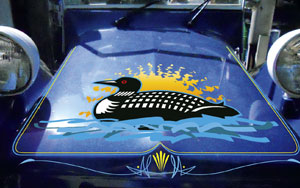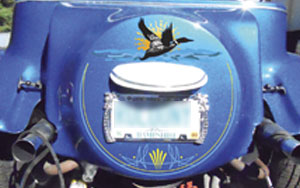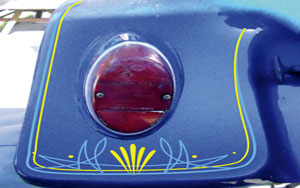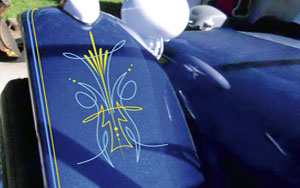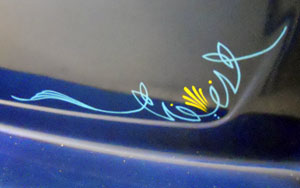 This cool little ride needed some help to bring out the beautiful royal blue paint job. The customer decided on process blue with primrose yellow for a classy, fun look.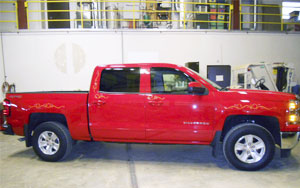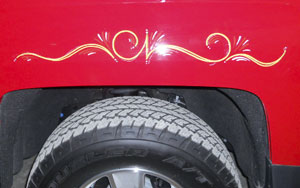 Most pinstripe designs have everything matching and precise balance. I chose to make the designs asymetrical to add interest. I think it looks great and the customer liked it too.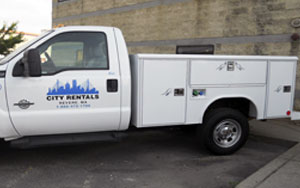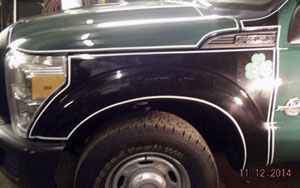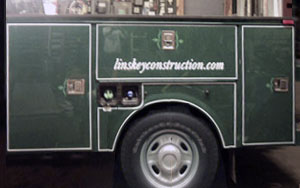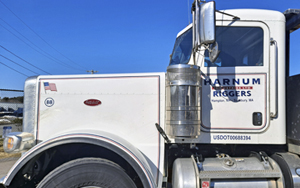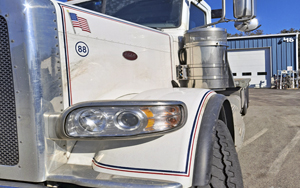 These utility vehicles have lots of rectangular sections. To differentiate the panels, I added double thick/thin pinstripes on all the sections. The scroll stipes were acheived using the
Beautiful 2 Color Pinstripe with Horseshoe Graphic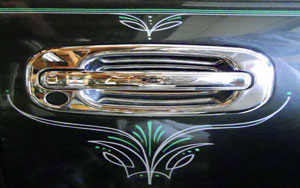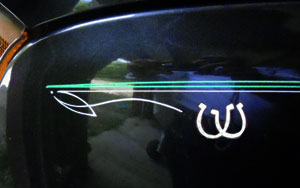 Another example of utilizing a lighter shade of the vehicle color for the main stripe with a constrasting accent color. You can't go wrong with this approach. The lighter shade looks classy while helping to bring attention to the color of the vehicle.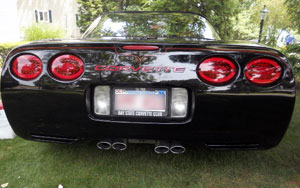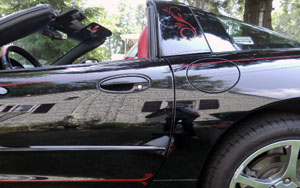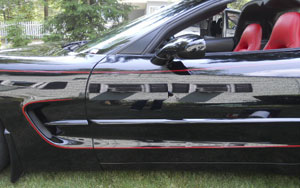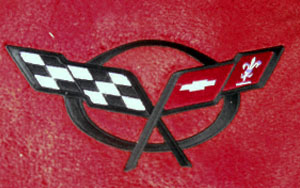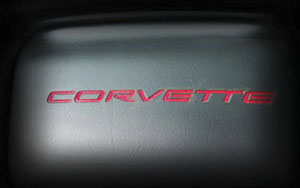 This job incorporated simple single pinstripes accenting the body lines of this classic Corvette. I also embossed the interior panel hand painting the recessed logos.
Painted Pinstriping is Making a Comeback.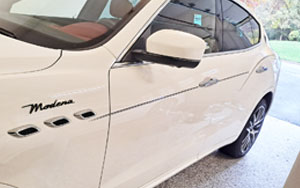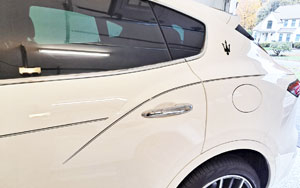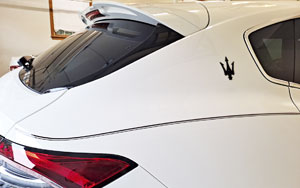 Although I don't do a lot of generic pinstriping at car dealerships anymore, I am getting a lot more calls from private car collectors and enthusiasts. It's very satisfying when a customer comes to me and wants me to design something on his/her special ride and it comes out exactly as they envisioned it. Here is a flowing pinstripe following the unusual and complex body lines of a Modena Maserati
We Offer Complete Mobile Service