Here are some photos of decal reproductions and installations.
My customer Boutiettes Autobody in Tewksbury, Ma had a vehicle in for repairs with custom matte black vinyl graphics. Neither the owner of the Charger nor Boutiettes was able to find the stripe, spider graphic or Charger logo for sale anywhere. Boutiettes called me because they know I have years of expertise as an artist with the ability to draw and recreate any graphic or custom art. The entire passenger side of this vehicle was repainted. I installed my created graphics to the vehicle matching exactly the other side. Heres how it looks now.
Replacing Original Factory Stripes on Collectible Cars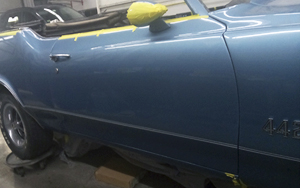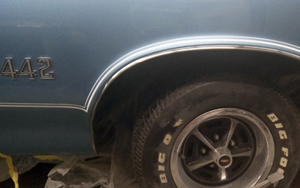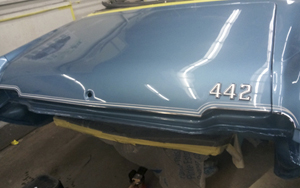 I recently striped an Oldmobile 442 for Advantage Collision Center in Ashland, MA. The customer, who is having his car restored, need to replace the original painted factory pinstripe. Advantage Collsion Center called me and asked if i can do the job. I jumped at the chance to be a part of the restoration team. What a beautiful car this is going to be once it is finished! Take a look at the work in progress...
Hand Lettering on 1950's Allard J2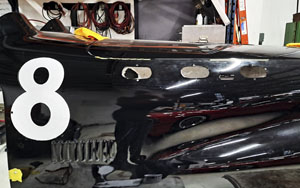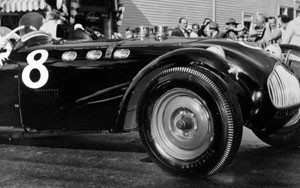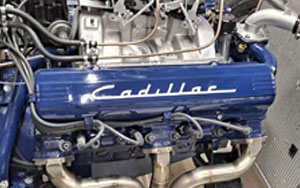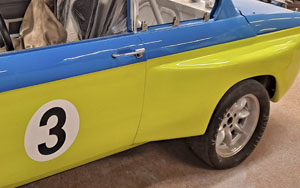 This beautiful Allard J2 was being refurbished for an auto show. My client Vintage Sports and Restoration in Bedford, NH called me to hand paint the number 8 on the vehicle and to hand paint the raised lettering on the Cadillac valve covers. It was a lot of fun working on this car. The blue and yellow BMW needed the white circle and number 3 hand painted on both doors. It looks really cool with the race numbers on it!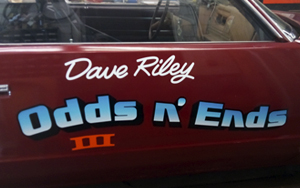 My customer at Crane Neck Autobody in West Newbury, Ma wanted to recreate the painted lettering on a race car his dad used to own. He wanted vinyl lettering and he wanted it to look exactly like the original. I utilized my Roland digital printer to recreate the airbrushed lettering. He was pleased with the result.
Replacement Pinstripes & Graphics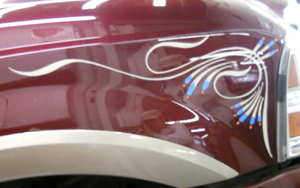 A large share of my work includes repairing and replacement of painted and vinyl pinstripes & graphics. Generally, a bodyshop will call me because they have had to replace a section of a vehicle that had custom work that must be replicated. I have over 30 years experience in the automotive bodyshop arena doing this type of replacement work. Here is a photo of some old school pinstripes that I had to reproduce at Boutiettes Autobody in Tewksbury, Ma.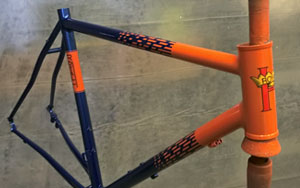 I have a customer that custom paints bicycle frames. He calls me when he has a project that needs a custom paint mask. He draws the design and specs it out for me. I redraw it on my computer then cut the mask using a product available from Arlon called Calmask. It is a pliable transparent material that is easy to cut and weed. This customer painted the blue background, then, applied the mask to paint the orange. Here is the result.
We Offer Complete Mobile Service