New Lettering - Old Style Appearance
I recently lettered this antique truck for Carriage Hill Craft Metals in Salisbury, MA. My client wanted a weathered look to match the antiqued paint surface on the vehicle. I achieved this by using 2 thin coats of paint hand brushed on the doors. Visible brush strokes and areas of transparency achieved this faded, old school look.
My client T.W. Excavating in Rowley, MA likes to color match his logo with the color of truck. This nice color combination utilizes strong contrast with black and white against the red background. It looks great and is highly visible. Certainly getting his bang for the buck.
My customer Harnum Industries in Salisbury, MA always calls me with some awesome vehicles to letter. Here is a Western Star 4900 loaded with chrome. This truck looks magnificent rolling down the highway.
Digital Prints and Vehicle Lettering
Digital prints for graphics and logos has helped the vehicle lettering industry become more versatile, cost effective and productive. Back in the day, these images with gradients and blending were hard to reproduce. The images had to be made using patterns and paint mask and sometimes airbrushing multiple layers. Excessive time waiting for paint layers to dry made it time consuming for the artist and costly for the customer due t the vehicle not in service while the job was being completed. Todays prints and decals seen here took minutes to produce. The decals were installed then an clear laminate was applied. This makes the decals impervious to sun and environmental exposure while producing a clean look. Here at Signart Lettering Company, anything is possible. We can create any graphic and special in reproducing hard to find on no longer available graphics and logos.
Multimedia Truck Lettering
This job for Caruso Companies in Revere, MA required the use of 3 different types of media. Beautiful imitation turned gold leaf letters were outlined with high performance black vinyl. The shading for the drop shadow was created in Photoshop, then digitally printed on top of red vinyl. The result was an old school lettering look done quickly and flawlessly. (Almost) Gone are the days of hand guilding and hand-painted lettering. This type of technique produces consistent designs that can be reproduced at any size and recolored in a flash. Accentuating the graphics is a 2 color straight pinstripe with scoll accents throughout. The customer wanted "WOW", and I delivered.
This cool retro van was customized and completely REVAMP...ired inside and out! The owner is a big Elivira fan and wanted this theme on his vehicle. I was provided images which I enhanced and modified to create larger than life decals. I added 2 color painted pinstriping inside and out all over the vehicle. Looks Great!
As any successful business owner will tell you...you must deliver a quality product at a fair price. I believe in doing all my jobs RIGHT the first time. That means I will only use the hightest quality materials in the products I sell. You can see the difference in the photo above. High performance vinyl and prints are what my customers can expect on every job I complete. The saying "You get what you pay for" is especially true in the sign industry. You may get a lower price from another shop, but make sure you know what you getting up front. Remember...Cheap work is never good and good work is never cheap!
Construction Vehicles Too...
Here at Signart Lettering Company, we offer "Complete Mobile Service". It doesn't matter where your job is, I'll go there. Time means money. It's critical that equipment and vehicles are always at the ready. That's why I do your job at your location and at your convenience. My motto is "When Quality and Service Matter". I always use the best materials, provide dependable service and offer competitive pricing. Your job is done right...On time...Every Time!
I do a lot of work for Unit Construction in Groveland, MA. Iv'e lettered their vehicles like this Ingersoll-Rand SP-56. I can create the lettering to fit unusual spaces along with reproducing hard to find graphics and logos.
Vinyl Lettering and Bold Stripes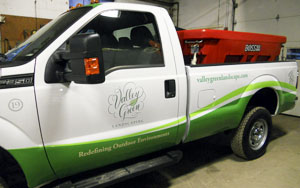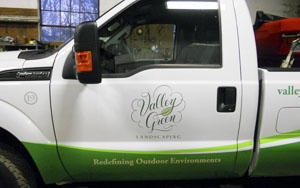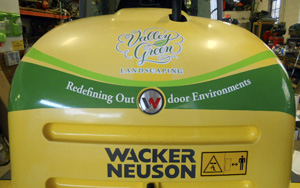 This truck lettering job for Valley Green Landscaping in Westford, MA. was a real challenge. I love the design of their logo and the way the graphics flow so well around the vehicle.
Effective Mobile Advertising!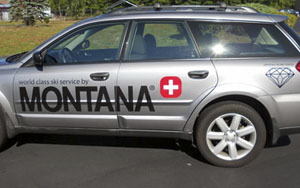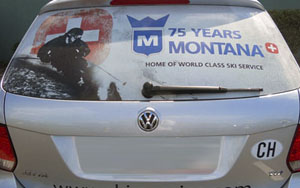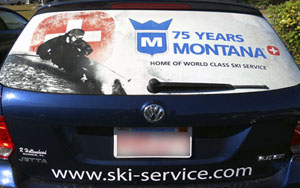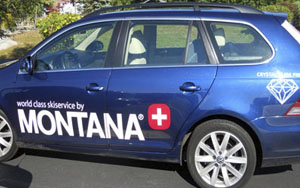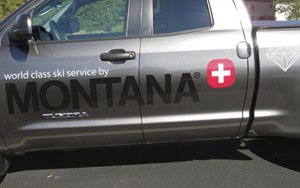 Great utilization of available space gets the attention desired. The rear window sun screen graphic is a nice, way to provide interest and utility.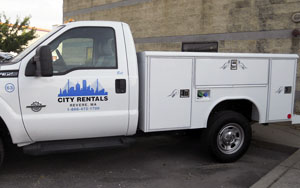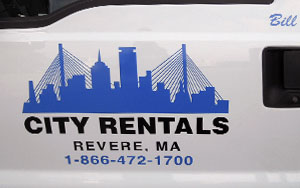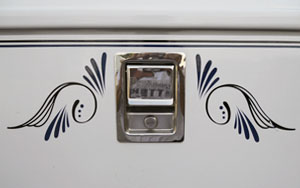 I lettered and pinstriped this truck for City Rentals of Revere, Ma. Vinyl lettering was used for the elegant skyline graphic logo. The vehicle was accentuated with simple & clean 2 color box and scroll painted pinstriping.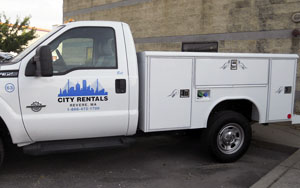 This customer loves this chrome Diamond Plate specialty vinyl. When customers see his company vehicles at a job site, they know who it is immediately. I love it too!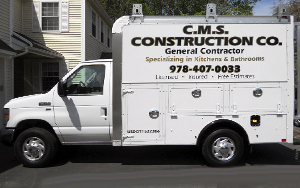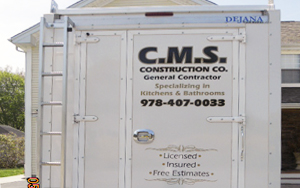 This truck looks great and is easy to read and highly visible. Too many time you will see a sign or a vehicle that is hard to read. Usually it is because the lettering is too small, too crowded, or uses too many different font styles. You don't see those issues here.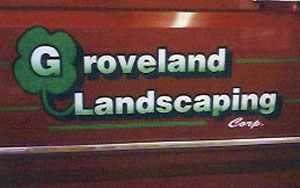 This logo was hand painted. The lettering was outlined, drop shadowed and airbrushed for a nice gradient effect.
High Contrast = High Visibilty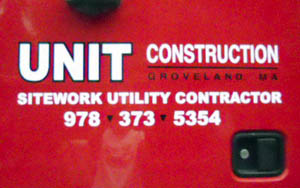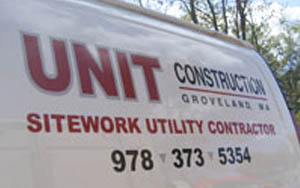 These photos prove an effective and simple layout, along with high contrast between the lettering and the backgound color ensures your advertising is noticeable and commands attention by potential customers.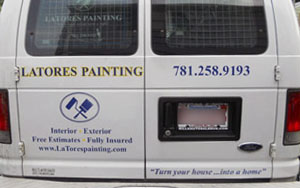 This van is typical of a lot of work vehicles I letter.
Window Lettering on Vehicles
Utilize advertising space on the windows of your vehicle. Visit my Custom Order page for infinite styles and colors.
We Offer Complete Mobile Service